Grad student Shefik Bowen, left, watches as fellow grad student Omar Taleb works on anionic polymeritation synthesis of block-copolymers in the environmental lab at AME. (M Wallheiser/FAMU-FSU Engineering)
By Trisha Radulovich; photos by Mark Wallheiser
The FAMU-FSU College of Engineering welcomed one of its largest graduate enrollment classes in the history of the college. The university's unwavering commitment to student success and vital academic programs for in-demand careers may be the key.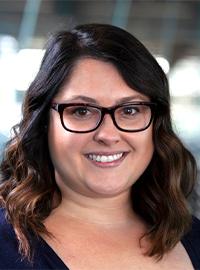 Kari Evans, the director of graduate studies, announced a breakdown of the college's latest numbers saying, "We have 533 graduate students enrolled this fall, an increase of 13 percent since this time last year. This includes more than 281 doctoral students, a 5 percent increase and 252 master's students, a 24 percent increase. FAMU enrollment of doctoral candidates has increased by 14 percent."
There may be many reasons for the growth. The joint college has many natural advantages, but Evans thinks some underlying factors may be related to the service and the behind-the-scenes administration that drive student satisfaction.
"In my opinion, our increase in graduate enrollment is a testament to the high caliber of our graduate programs, the unique partnership our college has with FAMU and FSU, and the customer service and personalized attention we offer our students, "Evans explained.
As the director of graduate studies, Evans oversees graduate staff who work tirelessly behind the scenes.
"Giving students a positive and personalized customer service experience—from the time they inquire about a program until they graduate—is key to enrollment growth," Evans said.
The joint college's engineering research-based programs allow students the opportunity to work in world-class research centers alongside faculty experts in their area of study. Faculty numbers are growing and their research entices more and more students. As the only joint college in the nation, the FAMU-FSU College of Engineering is inherently unique.
The college offers a wide variety of programs, at both the master's non-thesis, master's thesis and doctorate level, that help students reach that next step in their career and academic goals. Online programs are flexible for working professionals who need alternatives to the traditional classroom setting but still offer the same educational quality as our in-person programs.
The partnership between the No. 1 public HBCU in the nation and an R1 university provides students with a diverse cross-cultural community that is also research intensive. Graduate staff work hard to make sure we provide our graduate students with a positive administrative experience.
"Our graduate staff and faculty truly care about our students' well-being and success, and I believe students can see that when they talk to us during the application process," Evans said. "They know that if they choose to enroll here, they will get a quality education, be taken care of and become part of a vibrant community."